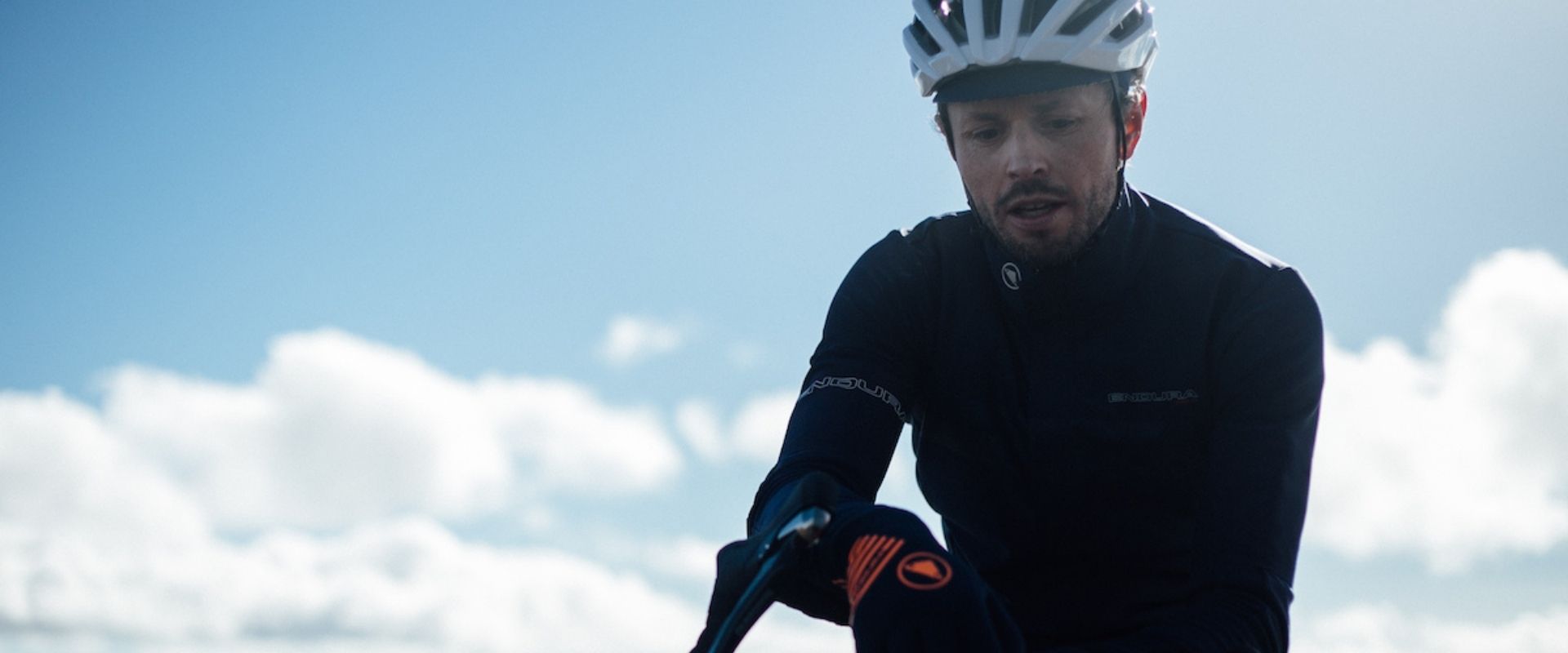 WALTER HALMINTON
Endura's total cyclist
FACE TIME
Walter Hamilton's love affair with cycling is so consuming that in just four years it has come to dominate his entire life, sporting and professional.
Product testing assignments for Endura - engagements as varied as scaling Mallorca's serpentine Sa Calobra climb, or pushing on through Scotland's no less picturesque Cairngorms National Park - suit him just fine, even if they represent only one aspect of a life now given over entirely to cycling.
"Cycling hascompletely taken over my life. I work with bikes, I ride bikes. I dream about bikes..."
Within four years of his first 'proper' bike ride, Hamilton's Edinburgh flat has been consumed so completely by his new occupation, restoring vintage bicycles, that it resembles a bike shop more closely than most bike shops.
In 2015, he was crowned Scottish Hill Climb Champion. He won the title by posting the fastest time on the cruel gradients of Stirling's Logie Kirk. Hamilton admits to a strange fascination with a discipline that is arguably the most painful in cycling; a masochistic niche that draws out the specialists each autumn. If he has not ridden to the point of collapse, he feels he has not given enough.
All of which is consistent with an obsessive streak that any cyclist will recognise. Four years ago, Hamilton was a tennis player, and a good one at that. He has not so much as picked up a racket since picking up a bike.
"Cycling has completely taken over my life," he says, as if considering the extent of his infatuation for the first time. "I work with bikes. I ride bikes. I dream about bikes!".
Advantage, Livingston. Hamilton looks like a cyclist precisely because he is a cyclist. It might have been easier to recruit a fashion model, but this is hardly Endura's way. When you've built a reputation on authenticity, a hired face doesn't meet the task. There is a richness to Hamilton's story that matches Endura's own meteoric rise from a kitchen table in Edinburgh to world class brand supplying world class athletes.
Brand Director Pamela Barclay says Hamilton's visits to Endura's giant headquarters in Livingston have become an enjoyable fixture in the cycle of new product launches. The requirement for product to be tried, tested and photographed is one he fulfils with an easy charm.
THE NEW CORINTHIAN
"When I found out that Robert Millar had won the Scottish hill climb championship in the year that I was born, that was it. Millar is my all-time cycling hero. The championship doesn't have a trophy, but to be mentioned in the same breath is amazing."
Hamilton is waxing lyrical. It's taken time. He's a laid back character, and is low key in the early parts of our interview. The topic of hill climbs - that quintessentially British endeavour of sprinting up the most savage gradients in the area - shifts him into a higher conversational gear.
"My first proper ride was a 40km loop. I was destroyed, but as soon as we got back, I said, 'When can we do that again?' Immediately, I was totally hooked."
"I found out that Chris Boardman won the British hill climb championship four years in a row. Then there's Malcolm Elliott, Millar; all of these guys, whom I look up to and admire."
Hamilton is discussing A Corinthian Endeavour by Paul Jones, a book that has become his touchstone. Four years ago, he would have been found on a tennis court ("not powerful, but fast, and a tricky player, by all accounts"), pursuing a career as a regional standard doubles player.
Hamilton seems as surprised as anyone by the speed at which cycling has taken over his life. His all-consuming affair with the bicycle began when a friend suggested a training ride instead of a training run.
"He had a road bike, and had cycled a bit; done a few sportives. He got fed up with me kicking his arse, so he decided one winter's day that instead of going for a run, I would borrow his girlfriend's bike. It didn't fit me at all. We went on a 40km loop, and he absolutely destroyed me. I was completely knackered, but as soon as we got back, I was like, 'When can we do that again?' Immediately, I was totally hooked."
If Hamilton's epiphany will be familiar to many cyclists - an overwhelming sense of freedom; the ability to travel further and faster than he had as a runner - it is no less valid. While he is not the first to fall hook, line and sinker for the bicycle's well-documented charms, his conversion is total.
"That was me, 34-years-old, and had never ridden a road bike, but I never ran again. Six weeks later, I bought my own road bike, and haven't looked back. I haven't played tennis since. Cycling is my career path now. It's completely taken over my life."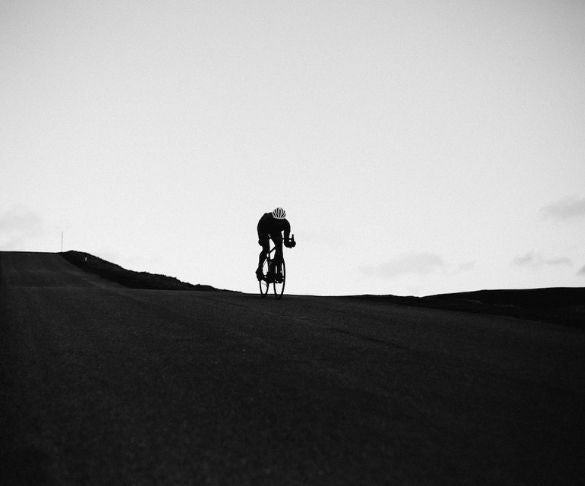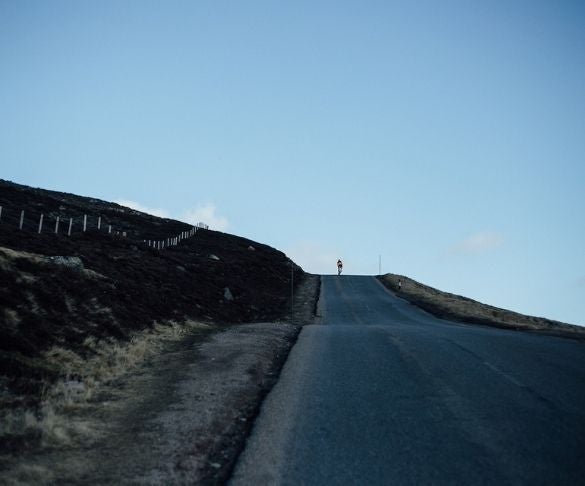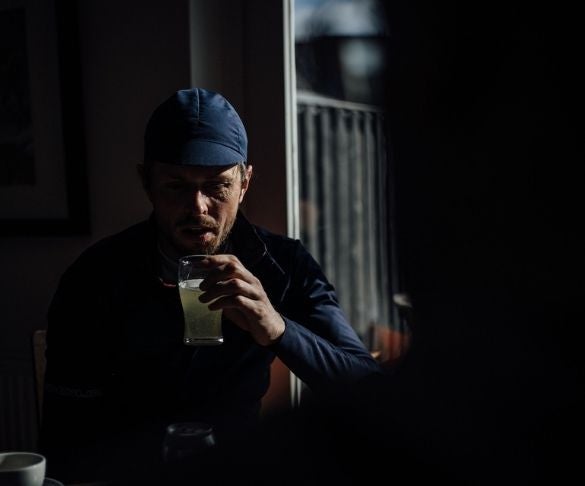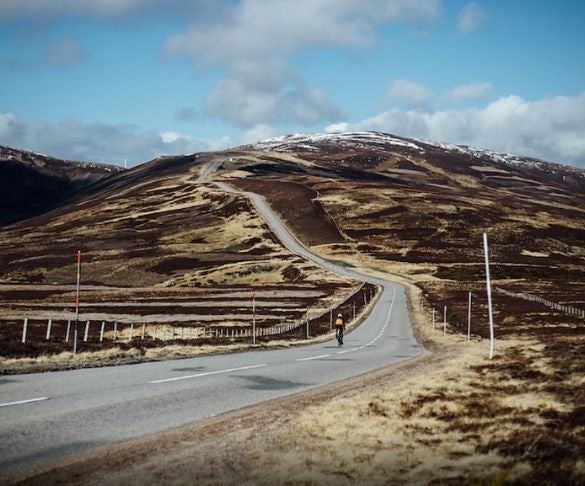 HILL START
It's fitting that such a devout convert would seek a discipline so pure as the hill climb. A niche, even by the obsessive standards of road cyclists, Hamilton's mastery of what is effectively an uphill sprint seems natural; such an overpowering passion for cycling could hardly be satisfied by anything less demanding. Less than three years after his first 'proper' bike ride, Hamilton was Scottish champion.
There is strategy too, as we will learn, but the hill climb's distinguishing feature is its unusual cruelty. Heart rates of 200bpm are not unheard of, and it is commonplace to see riders collapse in the second they cross the finish line.
"The faster you get to the top, the sooner the pain ends. I seem to enjoy hill climbs - the ability to push myself to the limit and then beyond."
At the larger events, typically held at the end of the racing season, and with autumn fast approaching, the competitors must pass through a human tunnel of raucous spectators, who roar their encouragement into the faces of the riders as they pass. "It almost allows you to go even deeper," Hamilton notes. "At your lowest point, or the hardest part, it gives you that extra push."
Hamilton's propensity for hill climbing is in part natural. He stands 183cm tall, but weighs only 65kg. His competition weight is even lower ("dangerously low," to use his own, ominous description). His first race was a hill climb, ironically on the hill on which he would win the Scottish championships two years later: Logie Kirk. The mile-long incline, pitched at an average gradient of 9.3 per cent, with a peak of 32 per cent, is next to his alma mater, Stirling University.
He notes the purity of the event, and its peculiarly British appeal ("a man with a stopwatch, and a clipboard, and that's it"). The stripped down machinery is a further expression of the same fetish: last year he assembled a bespoke machine with a frame built by South Shields' craftsman Norman Fay from exotic Japanese tubing in an era before Hamilton was born, never mind racing.
Finished in a suitably striking shade of purple, Hamilton accessorised his machine with the lightest components in his accessories bin: drilled Dia-Compe brake levers, for example. With no need of a rear brake, he removed the lever from the left-hand unit, leaving only the hood as purchase for out of the saddle efforts, saving 22 grams in the process. The net result? A sub-6kg bicycle.
"It was interesting to see how light I could make the bike, without it falling apart. I wasn't cheating and getting a carbon frame. I got the total weight below 6kg, with a pair of old, Mavic GL330 tubular wheels. They were super light. I saw a pair for sale that were 20 grams lighter, and it was a case of weighing up whether it was worth spending £250 to save 20 grams, or work with what I had and do the best I could."
A PAINFUL PARADOX
Talk of culture and machinery, however, is a distraction. Hamilton is drawn to the paradox at the heart of the hill climb: that by increasing his effort against the gradient, the rider reduces the duration of the climb. By digging deeper, however, he increases the intensity of his suffering. The hill climb may be nasty and brutish, but it is short.
"The faster you get to the top, the sooner it's over. It is masochistic; the faster you're going, the more pain you're in. I seem to enjoy the pain; the ability to push myself to the limit and then beyond. If I'm not collapsed at the end, I don't feel like I've been able to push myself.
"The support from the crowds almost allows you to go even deeper. At your lowest point, or the hardest part, it gives you that extra push."
Pain management is the crux of the hill climb; specifically, the ability to push beyond that threshold where every fibre of the body is warning of imminent catastrophe. This is the point where the hill climb becomes as much a mental endeavour as physical, and the brain must call the body's bluff if the rider is to succeed.
Hamilton recalls a specific instance from his ride to glory at the Scottish championships; a sudden, critical recollection made "at the crux of the climb", about 400m from the finish line - the advice of an instructor from a spinning class.
"I thought, 'Right, you're at your limit', and weirdly in my head I heard my spin instructor. I'd been at a class where he said: 'You think you're on the limit, but you're nowhere near. You've got so many more reserves. You think you can't go any harder, that you need to stop. Your legs are screaming, but you've got to override that. There's so much more that you can dig into.'
"Strangely, that gave me the incentive to get on the drops, get out of the saddle, and just push more than I would have ever thought I was capable of. And I ended up winning by two seconds. It was this little thing in my head that said, 'It's going to be over soon.' That's why I like it. The quicker you get to that line, the quicker it's over. You collapse on the grass and it's over then."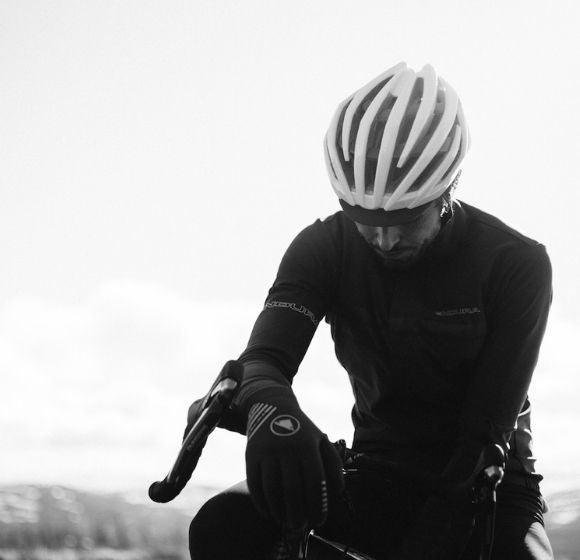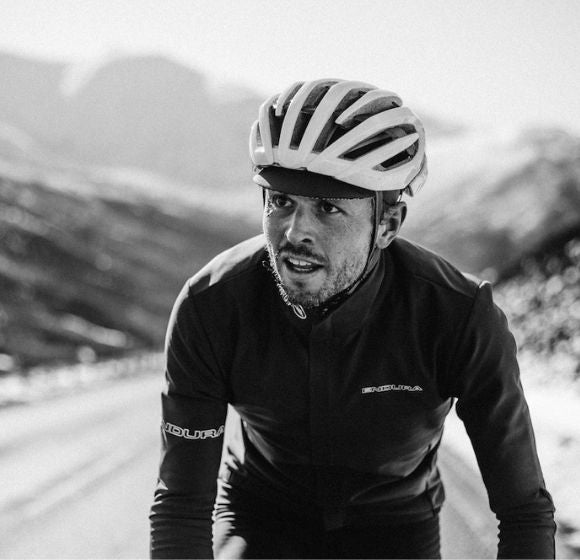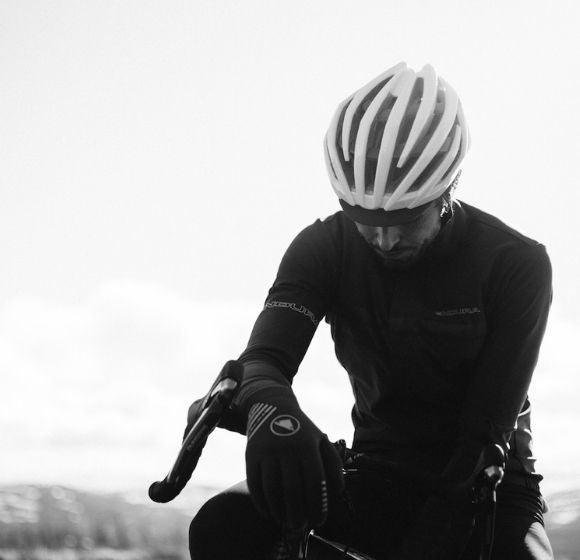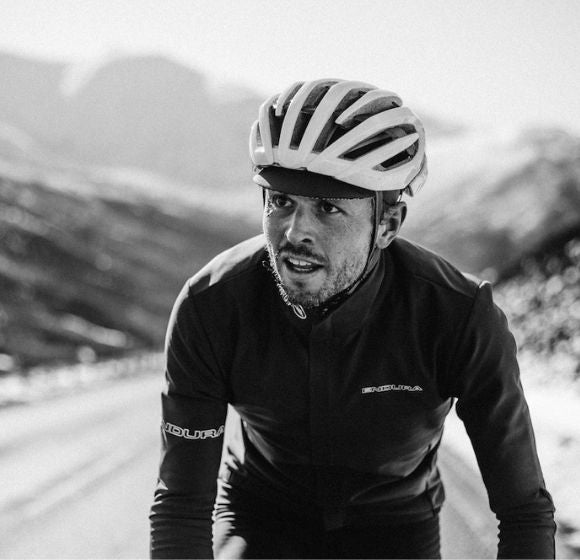 A STRATEGIC ENTERPRISE
A willingness to ride on when the body screams 'stop' is only part of the hill climber's resource, however. Tactical acumen and a little local knowledge are tools of equal value. Years of accumulated knowledge of Logie Kirk, gained from his days at Stirling University, provided a working knowledge of the climb's idiosyncrasies, even if this had been gained from slow ascents on a mountain bike.
Hamilton added to his earlier experience of the climb with 10 consecutive ascents in the week before competition, to hone his pacing and strategy. He is the first to admit that many of the most critical elements of race day cannot be replicated in training - anticipation and the rush of adrenalin, chief among them - but he had prepared himself to the point of reflex.
"I was able to push more than I would have ever thought possible, and won by two seconds.You collapse on the grass and it's over."
"It was almost like muscle memory. I'd got it in my head, so that when I turned up on the day, I almost didn't have to think. I just clipped in, and when they said, '3,2,1 go', I don't remember having to think, other than that top section."
(Hamilton is a 'multiple ascender' of any climb that takes his fancy, and not only those on which he is preparing to compete. Shooting a Pro SL campaign for Endura on Mallorca, he scaled the serpentine gradients of the Sa Calobra on three consecutive occasions. "Twice wasn't quite enough, so I did it a third time, which was silly in hindsight!").
It almost goes without saying that Hamilton does not use a power meter and 'ride to numbers'. Such a clinical approach, de facto for the peloton and increasingly de rigueur for the serious amateur, is of little value to riders seeking to go beyond themselves. Moreover, Hamilton distrusts his own tendency to obsession ("I'd get bogged down and mentally fatigued, I think"), and, besides, he has something of infinitely greater value than data.
"The benefit of my job I guess is that I get to ride and train when I want, so I don't have to squeeze my training into an hour-long window after work, or weekends. A lot of my training is just riding for the love of cycling. I just love riding my bike. I understand that is a real privilege. If the sun shines, I can down tools and go and ride my bike."
STEEL IS REAL
Hamilton's cycling obsession extends further than his attraction to arguably its most painful discipline. When he is not riding to the brink of collapse on the steepest hills, he is working from home, in the most wonderfully abstract sense.
His flat must be seen to be believed. Photographer Sean Hardy's pictures do much to capture a scene that at a glance seems hopelessly disordered, but is in fact organised and efficient. It is the sight of a domestic environment given over to bicycles that points the subconscious mind to thoughts of chaos, but this not the case. Hamilton's careful assortments of stems and saddles, brake components and handlebars, are no less ordered because they are inside his flat.
"The benefit of my job is that I get to ride and train when I want to. I understand that's a real privilege. If the sun shines, I can down tools and go and ride my bike."
Steel-framed steeds have become a speciality. Correctly treated, even frames that are 40-years-old or more can have the same lifespan ahead of them, according to Hamilton. Those that were made with care in the first instance - typically as bespoke commissions - are sources of fascination.
Hamilton is the first to admit that he is entirely self-taught ("trial and error," he shrugs). His second career started by accident, a little over two years ago, when he built up an aluminium Vitus frame to take part in L'Eroica in Tuscany, a magical and quintessentially Italian celebration of cycling, history and cuisine.
Unsurprisingly, he was unable to source the carbon-aluminium composite chassis developed jointly by Peugeot and Vitus for Millar's triumphant performance in the King of the Mountains competition at the 1984 Tour de France, and so did the next best thing and repainted a period aluminium Vitus. "I even got the decals to match."
He has never lifted a welding torch, but has cold set many a frame bent out of shape. His services encompass stripping, painting and rebuilding a vintage machine as a single-speed, city runabout, to a full, sympathetic restoration of a classic Italian racing bike.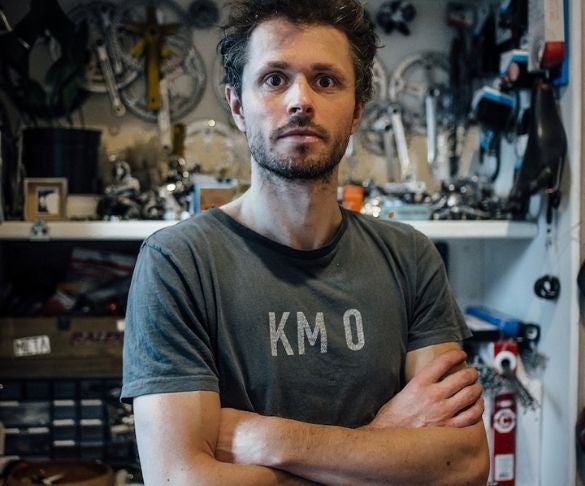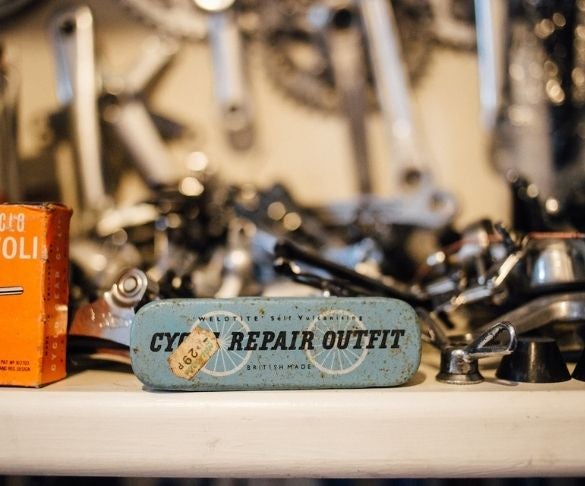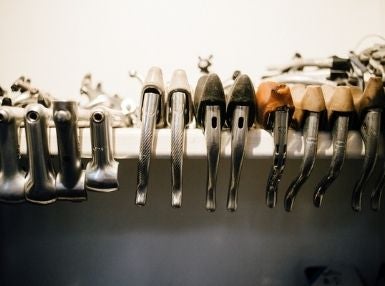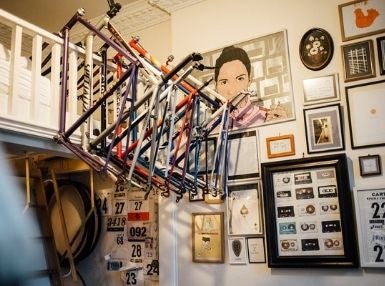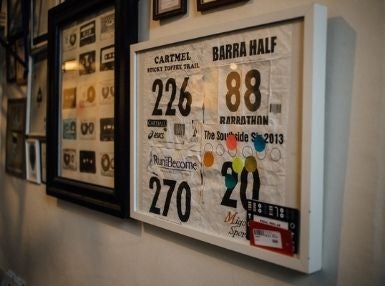 HEROIC ENDEAVOURS
It is the latter that accounts for most of his business. The increasing popularity of events like L'Eroica, which demand period machinery as a condition of entry, and nostalgia among a clientele no longer in the first flush of youth, has made Hamilton's most challenging commissions the most popular. The research, he says, is at least as satisfying as the restoration.
"Last year, I restored a Gios Torino for a client to ride at L'Eroica. He approached me with a reference photo, saying that he wanted to be Roger De Vlaeminck in 1977. That was a great project. I had to watch all the old footage, pausing it at certain points to catch the finest details, right down to the colour of the cable outers De Vlaeminck was using."
"I do tend to focus on stuff. When I find something that I like, that's it: I'm 'tunnel vision'. I'll just go for it."
There's a gentle self-deprecation at play here. The phrase 'mid-life crisis' can't be far from any description of a man of certain age pretending to be the cycling hero of his youth, but this is surely preferable to the sportscar-and-secretary set, traditionally associated with the phrase.
"A big part of my market is older guys who grew up watching the Tour in the 1970s and 80s, looking for a touchstone to the good old days. I've done quite a few bikes for guys who want to remember those days fondly. Generally, they have the money to afford an extra bike; a bike to ride to the café on a sunny Sunday morning and claim extra kudos from their mates for the most authentic machine."
It's a trend that has fuelled an ever-expanding network of professionals working on restoration projects, both in the UK and abroad. France and Italy are "where things get really interesting", Hamilton maintains. Both countries are cycling heartlands, with the accumulated mechanical heritage of generations of cycling fans.
TUNNEL VISION
Cycling is known for the the passionate hold it exerts on its converts, but Hamilton's attachment seems greater than that even of the most enthusiastic new cyclist.
Four years ago, he was a graphic designer by day, and a committed, regional-standard tennis player in his spare time. Now, his living space has become a bicycle workshop, he has been Scottish hill climb champion, and is the type of rider who does hill reps on the Sa Calobra.
"Lasy year I restored a Gios Torino for a client to ride at L'Eroica. He gave me a photo, saying that he wanted to be roger De Vlaeminck in 1977."
His first serious bike ride brought an end to the tennis. Four years later, he has not picked up a racket. Two years ago, he built a bike to ride at L'Eroica. Now, he earns a living by taking on similar projects for other riders. Truly, Hamilton's is an 'all-or-nothing' personality.
"I'd never really thought of it like that," he says, smiling. "I do tend to focus on stuff. When I find something that I like, that's it, I'm 'tunnel vision'. I'll just go for it."
There is no way back now for Hamilton, it seems. His passion for bicycles and cycling is boundless and all-consuming. He admits to a "love-hate relationship" with the Scottish climate, but even this is tempered by the reflection that "a nice day in Scotland is as good as anywhere in the world."
All of this amounts to Hamilton on the A924, a mile or so north east of Pitlochry, wearing Endura's new, flagship Pro SL Winter Collection, including a bibtight version of the game-changing Pro SL short, with pad width options. An updated Classics jersey, designed to satisfy the uncompromising demands of Movistar Team, Endura's partners in professional cycling's elite UCI WorldTour, is keeping out the cold and wet.
Still, this is hard graft. Hamilton, one suspects, would not have it any other way. When autumn comes, and he finds himself again in conflict with the wicked gradients that comprise the British National Hill Climb Series, he will be glad of the miles.
Relaxed and jovial at Endura headquarters, on the road he exhibits different qualities, captured in the striking images that illustrate this article. The hill climb is not for the faint hearted and Hamilton, arguably cycling's most committed convert, is anything but.
FOOTNOTES Words by Timothy John. Images by Sean Hardy Cairngorms, United Kingdom
© 2021 ENDURA