GINNIE X LAKESMAN
Endura's own IronBean
RACE DAY
My alarm was set for 03:05. Boak. I woke up at 0248 and couldn't lie in bed for another minute. I got up and made porridge and toast. Dry heaving as I forced myself to eat the only actual meal I'd have that day. I was struggling to keep myself from throwing up. I sipped water carefully and only had to stop the car once for an emergency pee (no mean feat in a tri suit)
I was met at T1 by Eilidh, one of my colleagues from Endura, who had travelled down to document my day (amazing) as I debuted my custom tri suit. My mum and dad soon appeared and I had my first cry of the day!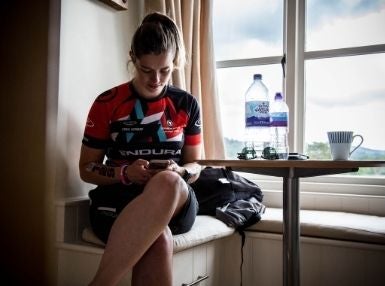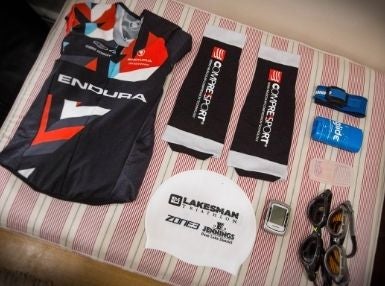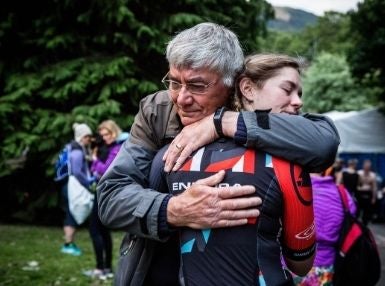 THE SWIM
An excited buzz surrounded the crowd of neoprene clad athletes as we filed down to the edge of Derwentwater. The view was breathtaking. I felt ready, scared, excited and not as overwhelmed as I expected. had prepared for this moment. I wasn't emotional as I had expected to be. But extremely calm. It was time to do three things
I waded in to the warm, slightly choppy water of the lake into a deep swathe of weeds. Like…. hip deep. Gross. Splashed my face and dipped in to get myself ready to go. On the advice of my swimming buddies, I positioned myself toward the front and out wide to the left. We treaded water for about 4 minutes and then the horn was blown. I got my head down and got stuck in. The water temp was perfect and it was so clear! They had laid out 25 buoys for us which was very generous. I had a bit of a Dougal: Small/Far Away situation because the buoys looked like they were small and close. But actually they were very, very large indeed. Just far away. Really fecking far away.
I swam straight for about 10 minutes before edging over towards the buoy. (140.6 miles is quite far enough without adding distance, thanks.) I managed to hug the buoys without drama for the full course. Up towards the island, the wind was whipping up some small waves, not big enough to cause problems but big enough to give me a nice lungful of water as I lifted my head to sight. Across the island, there was shelter and then all the way back there was a nice tail wind to give me a push. My splits flashing up every 500m looked good but I really felt like I was struggling to keep a solid pace. I tried not to get too worried and just keep swimming. Eventually I realised that the finish was only about 500m away. I started upping the pace and was promptly kicked in the face by a swimmer who just appeared in front of me. Punch-drunk, I pulled myself onto the exit matt, put my right foot down and felt cramp take hold of my calf.
OUCH!
I was trying to remove goggles, cap and earplugs and run and take off my wetsuit and listen to instructions and felt extremely overwhelmed. Stopped and saved the activity on my 735XT (didn't even look at the time cause it felt terrible) and then someone shouted "YOU'RE THIRD LADY!" Wait. WHAT? I wanted to stop and check but I needed to RUUUUUN the 8 miles to T1. Then someone else shouted "YOU'RE SECOND" and then my partner confirmed this as I ran passed. WHAAAAT? Shit. That's serious stuff. I wondered how close I got to my goal time of 1:10.
My friend's words of advice rung in my ears as I trotted into transition stuck firmly in my suit. "Don't waste any time."
I didn't. An amazing volunteer effortlessly removed my wetsuit while I shoved my helmet on, dried my face and feet, applied chamois cream, threw bike shorts on over my tri suit, and put my gloves on. The same volunteer then helped me put my socks and shoes on my claw-feet. She was my hero. I thanked her and trotted out to T1. I was the first biker into my section! I wobbled to the mount line and the girls clapped shouting:
"You are first lady."
Oh. My. God. That is the first and last time that will ever happen in a race. I breezed out of T1 and onto the bike.
Swim: 1 hr 08 mins
Transition 1: 6 mins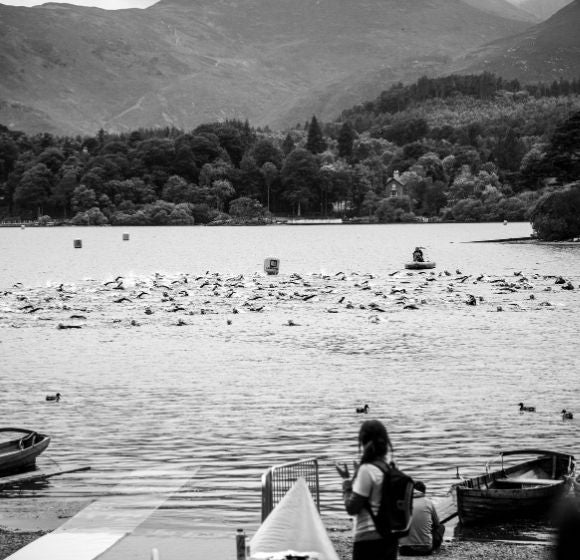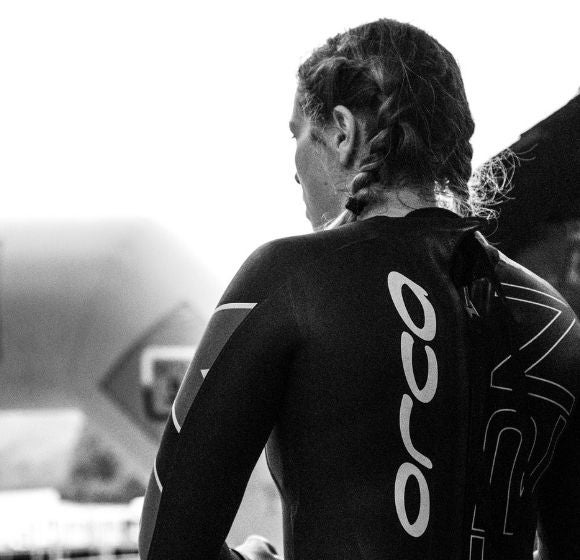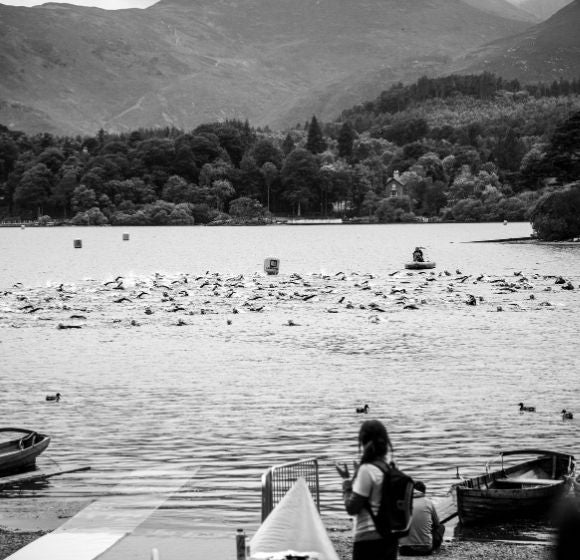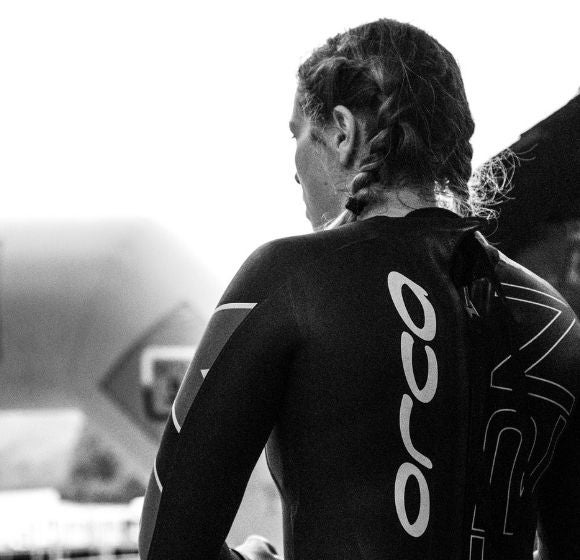 THE BIKE
I was pretty much immediately NOT first lady. Or second or even third. But I've always been an barely-above-average cyclist and a decent swimmer. The plan was always to just get through the bike. It was the bit that frightened me the most. The possibilities of what could go wrong are pretty limitless. I felt intimidated and not at all confident.
At Silloth, an odd wee town on the coast that I could see Scotland from across the Solway Firth ("Ha!" I thought, "I've basically cycled home") you turn back and head in a loop to Aspatria before heading back to Silloth. The headwind was constant and unforgiving. With nasty gusts from in front and the side. The terrain had evolved from flat coastal roads to lumpy countryside with some sharp wee kickers. Of course, I couldn't spin my legs in the granny ring up these because Stella wouldn't let me select that gear. Instead I had to stomp the pedals. This approach is faster over a shorter distance, in theory, but it saps the legs. I was soon having to take on more fuel to avoid bonking. This would cause problems later…
It was on this first loop that I executed the perfect bottle swap. Chucked my empty bottle directly into their bin from the bike, shouted "WATER AND A BANANA PLEASE" at the amazing volunteers who duly held these out to me, grabbed a bottle, put it in my teeth, grabbed a banana and shoved it in my pocket, switched my rear bottle to the front cage and put the water bottle in my rear cage, then peeled the banana WITH MY TEETH like and actual PRO and all without losing what little speed I had. That, right there, is winning.
After another half hour, my good mood had subsided. I had spent the whole day being over-taken and felt like I was dead last. This is when the first Dark Place happened. There was a 3km climb, it was doable in the gear I was in but my quads were in tatters and my calf was beginning to noise itself up after the swim cramp.
Iron-distance races are designed to weed out the weak and ill-prepared. Maybe I didn't get as many long rides as I'd have liked. But over the last few years I've developed mental fortitude. I've had meltdowns on long rides, but I've pulled through that to finish every single one. And as a fellow competitor so wisely observed, sometimes things get lumpy. You just have to knuckle down and get on with it. Just. Get. Through. The. Bike.
Eventually, I rolled into Keswick, passed the end of one of the out and back sections to see hundreds of runners on the marathon. Sigh. I had a lot of work still to do.
My earlier smiles had been replaced with a persistent grimace as my body was in absolute bits. My knees were killing me, my feet were numb and my neck was stiff from being so tense. I was so thoroughly fed up and knew that my goal time was now long gone. This was going to require every ounce of grit in my body.
I'd limped a very dodgy mech round 112 miles within a cut off. I'd made it. I'd made it on to the run. I knew now that I would finish. By hell or high water.
Bike: 86 years.
T2 – 6 minutes (including meltdown and pee break. THANK YOU to the incredible volunteer for her "tough love" which told me to harden the fuck up and get the fuck on with it. LOVED her.)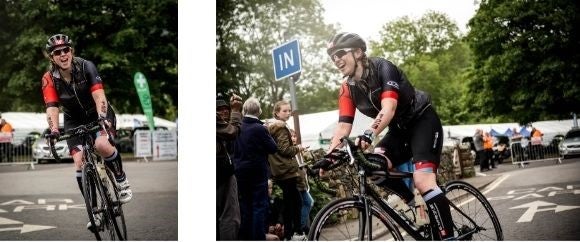 THE RUN
I mean, it was great for my support team who positioned themselves at various spots to see me. This helped immeasurably. But starting lap 1 when there were people on laps 3, 4 and 5 was absolutely shite. And turned a seemingly easy and flat course into much more of a test of mental strength and tenacity. There were ample opportunities to miss chunks of out and backs, especially as it became more and more quiet. But I walked and jogged every single meter of the assigned course. And it was brutal.
You start through Hope Park and then out through the woods into the back of the town centre. Then you run along the main road out to a wee path that takes you through fields. Small out and back here before your first aid station. From here you hit the Highway to Hell. a mile(ish) long section of road that you traverse FOUR times per lap. Yup. That's 20 times in total. After the first up and down, you have two teeny out and back bits with another aid station. Then you're back to HtH for another two traverses. After which you head back into town, winding your way for about 3km before you're back at Theatre on the Lake, PASSED THE FINISH LINE (this is SO tough) and back out to the next loop.
And repeat x5
By now, the field had thinned substantially. Stoic chit chat between athletes and the "chapeau, sir!" banter had been replaced by 1000 yard stares and unapologetic farting. This was the bit I'd been warned about. When it gets really tough and you can do nothing but dig in and just keep moving forwards. All the advice I'd been given, all the hours of boring turbo trainer rides, howling headwinds, bitter cold morning runs and long, early swims culminated in this last few laps of my first ironman distance.
Well fuck that. I'd come this far. I was finishing this. In Hero's Hour. So maybe it wasn't the 14 hours I'd wanted. 16+ hours of relentless forward progress is miles more than many are capable of. If anyone thinks for one mere second that I am not going to finish something I set out to do, then sorry, that's not my style.
As we hobbled through the park to start the final lap, the support was amazing. I got my fifth and final band and we muddled through. I thanked, high fived and hugged every marshal and volunteer that I could. What a long day they'd had.
It's hard to describe where your head goes at this point in a race. I had been moving for 15 hours. I was SO close to finishing. Yet the looped out and backs were absolute hell on earth. I mean, i knew this would be tough. But this was tough. One thing's for sure: I am tougher.
We marched back into town. And I finally let myself think about finishing. After a year of hard work. three years of daydreaming of this moment. Six Months of intense training. A new job. Injury. Stress. 4am starts. Zero social life. Sacrifice. Commitment. And not just from me but from my family and my friends and partner. I had to get there. I had to get there within cut off. My entire day was spent adjusting my expectations. The goal was now: get to the end. Don't be shit. And don't shit.
When I met Lucy Charles, and asked her what to expect of my first race, along with some really solid advice on being prepared and soaking it all up, she said
"You will only finish your first Ironman once."
With those words ringing in my ears, I ran down the hill towards the finish, the lights of the gantry now flickering through the trees. Loud music, cheering, my mum screaming encouragement, and I finally, after 16 hours and 21 minutes of relentless forward progress, got to turn left and cross the last timing matt and soak up the red carpet. I milked it as much as I could. High fiving and laughing and crying. They held the ribbon over the line for me and I crossed it to the words of "Congratulations, Lakesman"!
I had done it. It was done. I laugh-cried as I was photographed by Eilidh and her boyfriend and handed a t shirt and medal. I cheered over the next finisher and then went to find my family and friends who had also had the longest day.
Run: 6 hrs 35 mins – my slowest EVER marathon
140.6 miles: 16:21.13 – got my moneys worth!
Lets not forget that I did this for charity. And so far, thanks to my incredibly supportive friends, family and colleagues, my total is sitting at £1600. That is going to help Lymfund in SO many ways.
I did it. I am IronBean.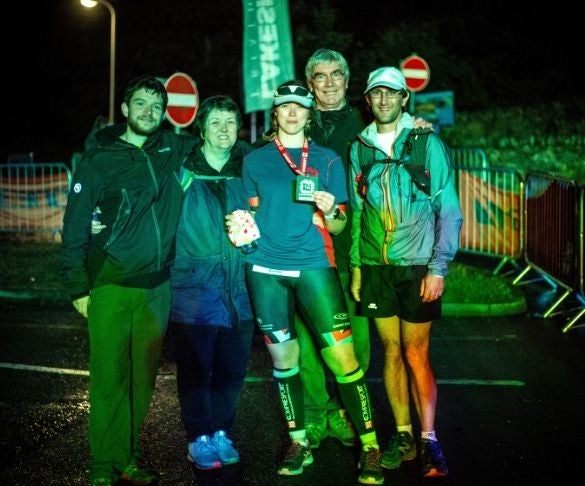 FOOTNOTES Words: Ginnie Kennedy, Photos: Eilidh McKibbin Keswick, UK
© 2021 ENDURA